Freedom Month Book Reviews
Freedom Day is just around the corner and you know what that means: time to read some home grown stories! Below are just a few selections which will tell us all about our amazing country and its history.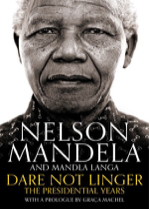 NELSON MANDELA AND MANDLA LANGA : DARE NOT LINGER

The 360-page book, which takes its title from the final passage of A Long Walk to Freedom, draws heavily on the memoir Mandela started writing shortly after his presidency ended. He had written roughly 70 000 words before his strength started to fail him. It took celebrated South African author Mandla Langa 11 months to complete the book, using Mandela's original drafts, along with detailed notes that he made as events unfolded. Reading Dare not Linger is indeed like looking out of a window to the past through the eyes of the man who stood central to the unfolding of a country's history. It is truly fascinating. While most of the events the book deals with are public record, Mandela's private thoughts on them were not – until now. His strained relationship with former president FW de Klerk and his private frustration with many of De Klerk's actions comes strongly to the fore…"He wanted to build bridges, and he knew that people weren't leaders for themselves. De Klerk was not just a leader for De Klerk and his family. He was a leader for a whole constituency of the South African reality, as was Buthelezi. His view was that you cannot, by any stretch of the imagination, humiliate a person like that in public, because that would in fact be a humiliation of his supporters. And so he tended in public to be very reconciliatory with people like De Klerk and Buthelezi, but privately he would really read the riot act," Langa says… "People look at Mandela and look at today's circumstances and do not see that one of his major preoccupations was to create a foundation for a democratic South Africa. Now, it's up to the ones who are living in that house that has been built to make sure it stands the battering of the elements."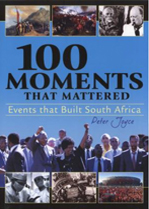 100 MOMENTS THAT MATTERED : PETER JOYCE

100 Moments that Matters features a selection of 100 event and the people involved in them that shaped the nature of South African society over the centuries. It is a compendium of interesting stories presented in bite sized chunks providing a coherent an colorful pictures of the nations history, written in an accessible style, and beautifully illustrated throughout this book will entertain and inform. It conveys the main political events as as well as milestone in technology, culture, entertainment and sport and also a few stories that are included for their humor and charm.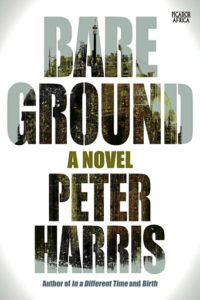 BARE GROUND : PETER HARRIS

This is Peter Harris's debut novel. "Harris has now ventured into new territory with a novel, Bare Ground, which he insists is set in an indeterminate time but clearly mirrors the past decade in SA. It's a political and corporate thriller packed with intrigue. At the heart of the story is a huge empowerment mining deal that, due to its nature, needs government sanction. The president takes a close interest in the outcome…Bare Ground is not all business and politics, death and devilment. It begins with an adored baby drowning slowly in a swimming pool, "bubbles from her perfect mouth, framed by strands of blonde hair, small crystals accelerate lopsided as they rise in a silver stream to the surface. And then stop." Who is watching this tragedy and why? The mystery is threaded through the novel.. Harris says it is up to readers to decide on the era in which the novel takes place, "although it is definitely post-Mandela's presidency".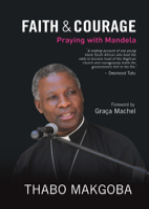 FAITH & COURAGE – PRAYING WITH MANDELA : THABO MAKGOBA
"A moment of faith and clarity while Alex is burning"

A moving tribute to Madiba whom Archbishop Makgoba celebrates as an examplar of faith and courage.